The power of marketing is indisputable. Advertisements create previously unrecognised needs as much as they reinforce awareness. And regardless of a product's actual merits, a slick campaign (with a little help from cool styling) can be essential to creating that elusive 'want one' factor.
Take Peugeot for example. Never sold well in Singapore, but they're still sponsoring prime TV shows like the recently-departed Friends. And with excellent ads too – who can forget for instance, the Tata being beaten into a 206 look-alike by its proud owner? And now the 407 is being featured in the new 'Playtime is over' series, again banking mostly on the car's striking looks to instil automotive lust into viewers' hearts. The question must be asked though: Is it any good under the skin?
There's no denying the feline shape is distinctive. A snout this long hasn't been seen on a new car in ages, but get used to it. Because firstly, increasingly-stringent pedestrian impact laws will necessitate space between bonnet/bumper and engine; and next, Peugeot actually makes it look good, without enlarging the rest of the proportions in the name of 'visual balance'.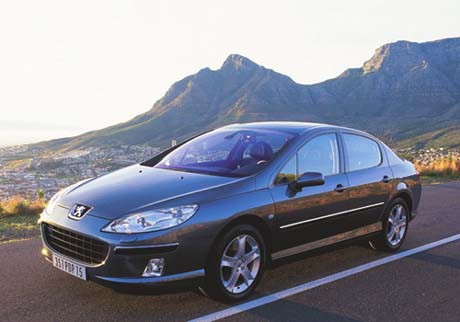 How is it done? Well, the windscreen is so steeply raked that the driving position has to be pushed way back to prevent decapitation upon entry/exit. The entire glasshouse is also pulled forward to mask the front immense overhang. Unfortunately, the combination of these two factors results in a squashed cabin. As can be seen from other recent examples, a cab-forward stance does liberate cabin space, but it all goes to the useless area between windscreen and dashboard, instead of truly benefiting passengers.
A car with a 2725mm wheelbase should be a lot more spacious than this – as it is, the Peugeot struggles to better a Civic for rear legroom, compounded by the limited foot space under the front seats. The driver has it better, with both room and a wide range of seat/steering wheel adjustments to ensure decent comfort.
Another shocker comes after figuring out how to open the boot – there are no obvious buttons or latches anywhere, and the secret lies in a button hidden in the numbered badge, very nifty – you are greeted with a truly unforgivable 407 litre space. Never mind that it is well shaped or conceals a full-sized spare – it is a full 160 litres or 30% smaller than a Camry's. That difference alone is larger than a Mini's total boot capacity.
And what's with the dreadful 206-standard materials on the dash, wiper stalks and door handles? Even the roof lining flexes when you push the interior light buttons. This is a 2.0l vehicle, for goodness' sake! Cars from the class below would be ashamed to be clad with such grades of plastics nowadays. Arch-rival Renault has on the other hand really upped their game in this respect, taking the fight right to Volkswagen, the benchmark when it comes to interior trim.
Disappointments continue when you continue to look around the cabin. The passenger glovebox is close to astonishingly tiny, due to the fuse box that takes up half the space. Also, the lever to open the bonnet also resides on the passenger side, making it inconvenient to do simple oil checks. Both I suspect are due to poor planning for RHD conversion, seeing that the UK is probably Peugeot's only major RHD market.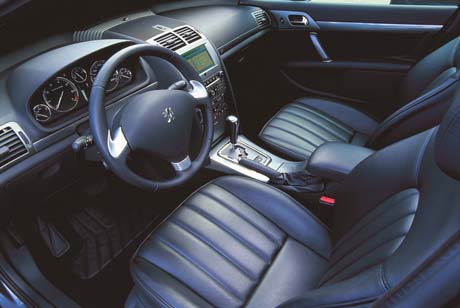 Two versions are brought in, with 2.0l and 2.2l engines. In addition to a larger displacement the latter also adds 17" rims (compared with 16"), dual zone climate control, chrome accents on the rubbing strips, rear armrest, as well as rain, light and tyre pressure sensors. All for an $8,000 premium over the 2.0litre's $107,900 price tag. Electric front seats can also be specified in the larger-engined car, for another $2,000.
We tested the 138bhp 2.0 litre, partly because of the SE's assertion that there isn't much difference between the two engines, and partly due to the rain outside, which would have negated any power advantage.
It's never a good sign when a salesperson makes excuses for a product before you have commented on it, but this was precisely what happened here. The engine's low-ish power was explained as being offset by high torque, which is stretching the truth somewhat. 190Nm is no better than class average, and while perfectly tractable when cruising around, the entire performance of the engine is really nothing worth shouting about.
The four-speed auto gearbox allows for Tiptronic-style manual shifts, which is how you will use it to get anywhere in a hurry. Because its regular brain is simply too indecisive to deal with anything between the laziest and most manic throttle inputs. Decide that you want to go two notches faster, and it stays in the same gear for a while, hesitates, then decides to shift down. By which time any window of opportunity for overtaking has long gone.
The steering is not too bad, light and responsive. And turning into a corner proves to be a fuss-free experience, the chassis providing a fair amount of precision to do what you ask of it. It's a pity the wet roads prevented us from exploring its dynamic capabilities further, but I really wonder how that would change my mind about the car as a whole.
I'm still quite perplexed as to how much has been sacrificed in the name of style. It's like Peugeot spent all their money on good stylists and forgot about the basics.
Now, if I really needed to spend this kind of money on a car, and put driving pleasure at a premium, I'd look straight at the Alfa Romeo 156 JTS – equally cramped, but with a really special engine, cabin and driving experience.
But perhaps the most damning thing I can do is to compare the 407 with Renault's Megane, another Gallic offering that costs $25,000 less, and should be in the class below. Sure, the Megane is 17% down on power in theory, but in the real world it's hardly noticeable. What's more, it matches or even betters the Peugeot in most of the crucial areas, including space, quality, safety, ride comfort and gadget count. One would be daft not to consider the extraordinary value that one offers over the other.
Playtime is indeed over. Peugeot needs to get serious if they want to sell on more than just good looks and a nice slogan.